Obsidian Black Metallic and Silver Metallic—these are the two most illusive Tesla Model 3 colors that are no longer in production…
Which raises the question—can you still get them somehow? Is there an off-menu ordering option?
In this blog post, we'll take a look at the Model 3 color conundrum and explore the various ways that you can get your hands on one of these awesome discontinued colors!
Tesla Model 3 Colors—The Complete List
To begin, let's take a look at all of the Model 3 colors, and then let's look at when they were stopped/discontinued. The full list of Tesla Model 3 colors is as follows:
Deep Blue Metallic
Midnight Silver Metallic
Obsidian Black Metallic
Pearl White Multi-Coat
Red Multi-Coat
Silver Metallic
Solid Black
Now, it's important to note that 5 out of 7 of these are still available, but the two that went away are:
Obsidian Black Metallic (discontinued in 2018)
Silver Metallic (discontinued in 2018)
This is a bummer in our book—because Obsidian Black Metallic (affectionately known among the Tesla crowd as "OBM") is a stunning color. It's got just enough metallic flake to hide imperfections that are a notorious problem with Solid Black, and it shimmers beautifully in the sunlight.
And of course, Metallic Silver is one of the cleanest-looking, easiest colors to take care of. And silver in general is one of the most popular car colors globally, so it's disappointing that it's no longer an option.
But, we understand—Tesla did this in order to streamline production, which was an important part of getting the Model 3 numbers up, and ultimately led to its success. The Model 3 was a make-it-or-break-it car for Tesla, so they really had to ensure that production volume was optimized—and unfortunately, that meant losing some cool colors.
Can I Order Discontinued Model 3 Colors as an Off-Menu Option?
Unfortunately, no—you can't. We contacted the Tesla mothership directly to confirm this on more than one occasion. Someone even double-checked that there was no way to make this happen around the time that Obsidian Black Metallic was discontinued—and the answer was still no 🙁
How to Get Discontinued Model 3 Colors—Four Different Approaches
So, what to do? How do you get your hands on one of these colors? Let's take a look at that…
Option #1—Buy a Used Model 3
We'd be remiss if we didn't start with the easiest way (and our favorite way) to get one of those awesome discontinued colors. Simply put—just buy a used Model 3!
Because these colors were discontinued in 2018, you'll need to check 2017 (super early production year) and 2018 in order to get one. By the 2019 model year, they were gone and Tesla downsized to the five standard Model 3 colors you get now.
The good news is that Find My Electric is the ultimate Tesla marketplace, and the absolutely best way to buy a used Tesla.
Want to know why? Well, we're glad you asked…
When we built Find My Electric, we spent a lot of time creating a killer algorithm for searching and filtering colors. Using our advanced filters, you can easily search by specific years AND model-specific colors to narrow down your search to Obsidian Black Metallic and Silver Metallic! Check it out: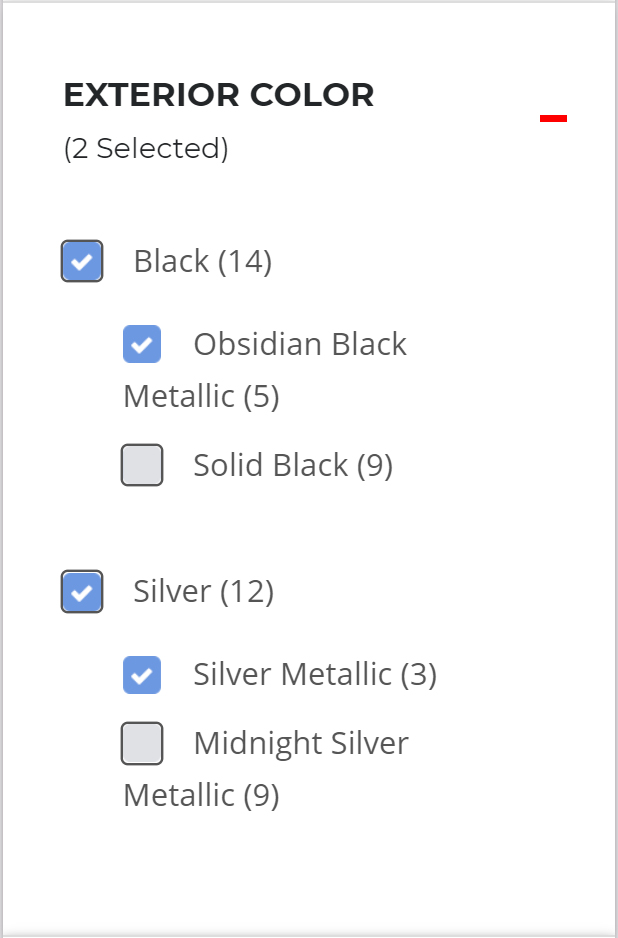 We're proud of the fact that this technology is proprietary, and you won't find it anywhere else! But it makes it incredibly easy for you to search our listings and find a Model 3 in one of the discontinued colors you're looking for.
Take a look at our Model 3 listings
and see for yourself!
Option #2—Buy a Used CPO Model 3
Another option is to buy a Certified Pre-Owned Model 3 directly from Tesla—they do often have older years, and this typically includes 2018 where you might be able to get a hold of an Obsidian Black Metallic or Silver Metallic Model 3.
While Tesla doesn't technically call them CPO cars anymore, that name has stuck with the Tesla community, and it's pretty cool because they come with a 2 or 4 year warranty depending upon the mileage of the vehicle.
Now, there are some drawbacks to CPO cars (which we'll cover in another post), but quickly—you often can't see them before buying, and there are sometimes trouble with getting them in a timely manner, as noted by good old Uncle Rich:
Also, one final point to note about CPO Teslas is that they're generally more expensive and there's zero negotiating. But still, not a bad option nevertheless.
Option #3—Wrap It Up
Some people don't actually care what color their car is, because they plan on wrapping it anyway—so they get whatever color is included with the Model 3 (currently Pearl White Multi-Coat, but previously Solid Black). Then, they just wrap it up.
This is a bit more expensive, because a good full-body wrap job is usually north of $3500 from a reputable shop, but it's definitely one way to get the perfect color you've been dreaming about.
A nice thing about wrapping your car is that it protects the paint, and you can also get some awesome colors that aren't available from Tesla—pretty much any color you can imagine or want, even some with pretty cool matte/frost effects.
Option #4—Paint Your Model 3
Lastly, there's always the option of a good old fashioned custom paint job. We really don't recommend this, because it's cheaper to just wrap a car and a wrap also has the added benefit of paint protection. Wrapping wasn't always an option years ago, but nowadays the technology is amazing and can look just as good as paint plus the aforementioned protection benefits.
Final Thoughts on Discontinued Model 3 Colors
So, there you have it—four different ways that you can get your hands on a discontinued Tesla Model 3 color.
If you're looking for a Model 3 of any color, we recommend checking out our Model 3 listings and using our filter to drill down and find exactly what you're looking for. And if you're thinking of selling your Tesla—we can help with that too!