Joe Rogan's Tesla has been the subject of much attention by his fans, Tesla fans, and the automotive world alike—and there's a good reason for this…
Joe has long been known as a car guy, appearing on episodes of Jay Leno's Garage, driving 1965 Corvette Stingray, and having owned a variety of other muscle cars and exotics in his life (including a Porsche 911 GT3 RS).
But when asked about his Tesla sedan, Joe said:
"It's a f*cking spaceship! It's the weirdest thing I've ever driven in my life! It doesn't even make sense—there's not a single car I've ever driven that's even close to as fast. Nothing. My Porsche is sooo slow—I have a GT3 RS, it has 518 horsepower, it weighs 3,000 pounds, it sounds like a dragon—and that Tesla would leave it in the dust. I mean leave it in the DUST! Like 0-60 two seconds quicker…it's f*cking INSANE!"
It's pretty clear that Joe Rogan is a Tesla fan, there's no doubt about that. With that said—there are a lot of other Rogan and Tesla fans who have questions like—what kind of Tesla does Joe Rogan drive? Will Joe buy the Cybertruck? And will Joe have Elon on his podcast for a third time? In this blog, we're going to answer those questions (and more)—so let's jump in!
What Kind of Tesla Does Joe Rogan Drive?
Joe Rogan drives a 2018 Model S P100DL in Solid Black with 21" Gray Sonic Carbon wheels, an All Black interior, and Figured Ash Wood Décor.
How do we know this? Well, let's take a look at some of the facts…
Joe first had Elon Musk on his podcast (The Joe Rogan Experience, AKA "JRE") on September 6, 2018—where they discussed the Model S, and Joe promised Elon that he'd buy one.
Elon told Joe "You should try the Model S P100D—it'll blow your mind out of your skull!"
To which Joe said "Tell me what to order, I'll order it…"
Elon said "Model S P100D. That's the car that I drive."
And Joe said "Ok..I'll get what you drive."
Then on February 2, 2019, Joe posted this picture to Instagram: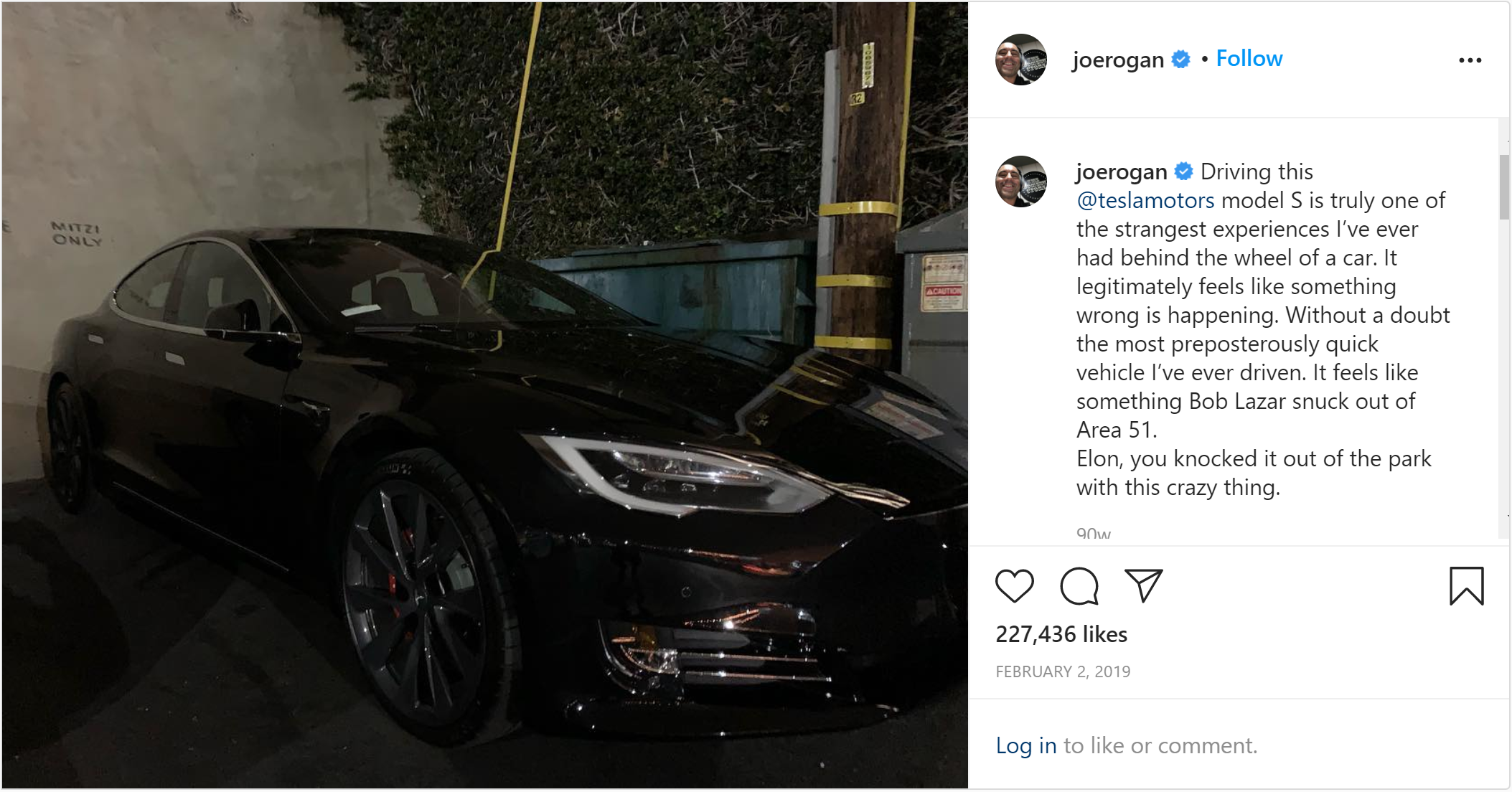 Based on the picture above, it's clear that the car is a P100D (the Model S hadn't yet changed to the "Performance" moniker) with 21" Gray Sonic Carbon wheels.
Considering the Elon Podcast was in September 2018, and Tesla typically goes by the calendar year in terms of build dates—we're going to (safely assume) that Joe's Tesla was built in late 2018, even if he took delivery after January 1, 2019—making his Tesla a 2018 P100D.
Also, because Joe has referenced Ludicrous Mode on his Tesla many times, we know it's a P100DL.
In terms of color—Tesla discontinued Obsidian Black Metallic around September 2018—before Joe's Tesla was manufactured, making Solid Black the only possible color option.
What about the interior? Well, we can see the All Black interior from the first picture, and the Figured Ash Décor here (we had actually pegged Joe for more of a carbon fiber dash guy):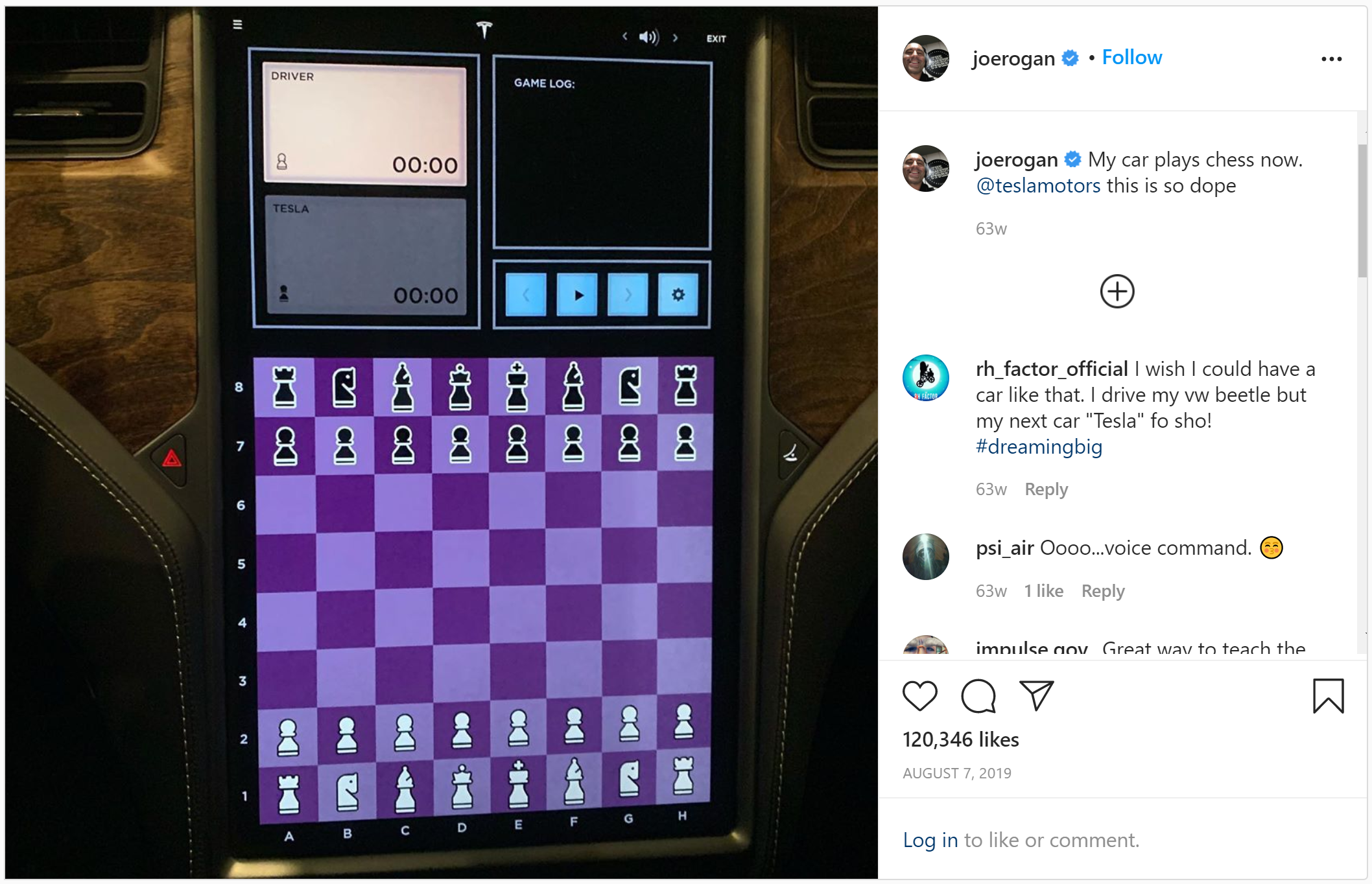 So—to reiterate—based on all available evidence, Joe Rogan drives a 2018 Model S P100DL in Solid Black with 21" Gray Sonic Carbon wheels, an All Black interior, and Figured Ash Wood Décor.
Joe Rogan's Podcast—Which Episodes Does He Talk About Tesla?
Not only does Joe Rogan own a Tesla, but he's also a fan and frequently talks about Tesla in a variety of podcasts.
Based on the number of JRE episodes we've listened to (we're obviously fans of Joe as well), he has a meaningful discussion about Tesla (even if it's brief), in the following episodes:
#1169 – Elon Musk – 9/6/2018
#1238 – Brian Redban – 2/4/2019
#1259 – David Wallace-Wells – 3/6/2019
#1287 – Rich Rebuilds – 4/30/2019
#1306 – Wiz Khalifa – 5/30/2019
#1322 – Reggie Watts – 7/9/2019
#1342 – John Carmack – 8/28/2019
#1394 – Matt Farah – 12/6/2019
#1422 – Lex Fridman – 2/4/2020
#1425 – Garret Reisman – 2/7/2020
#1443 – Jonathan Ward – 3/18/2020
#1470 – Elon Musk – 5/7/2020
Will Joe Rogan Buy the Tesla Cybertruck?
Considering what Joe said about the Cybertruck to Matt Farah on JRE #1394, he is definitely going to buy a Tesla Cybertruck.
Joe said to Matt "Ask me if I'm getting one of those trucks…"
To which Matt said "Bro. Are you getting one of those trucks?"
Joe then enthusiastically replied: "F*CK YEAH!!!"
So—based on that, it's pretty clear that Joe's Rogan's new Tesla (or next Tesla) will be a Cybertruck.
Is Joe Rogan Going to Buy the 2020 Tesla Roadster?
Joe was recently talking with Elon on JRE #1470, trying to get him to reveal details about 2020 Roadster.
He said "When am I gonna to be able to buy one of them Roadsters?! When's that happening?"
To which Elon replied "The Roadster is kind of like dessert. We gotta get the meat, potatoes, greens and stuff first."
Elon explained that there are a variety of things that need to be done before the next Roadster (Gigafactory Berlin, Model Y, Cybertruck, etc.).
So, there's no clear date on when the 2020 (now 2021) Roadster will be available, but it seems like Joe will definitely buy one.
Will Joe Rogan Have Elon Musk on for a 3rd Time?
We certainly hope so! Elon is the most viewed guest that Joe Rogan has ever had on his show, with their first episode (Joe Rogan Experience #1169) garnering over 37 million (yes, million) views, making it Joe's most popular episode by a margin of 13 million views.
The second time Elon came on the episode accumulated over 18 million views, making it Joe's fourth most viewed episode ever—which means of Joe's top four episodes, Elon is in two of them, making him without a doubt the most popular JRE guest ever.
Since his second appearance on Joe Rogan's podcast, Elon has appeared on a number of other Podcasts including Lex Fridman's, as well as a variety of other Tesla-related podcasts such as Third Row Tesla (which as an excellent episode).
While no one knows for sure if Elon will come on JRE again, we think it's a definite possibility and can't wait!
Also—in case you're wondering where you can get the awesome SpaceX and Tesla nerd shirts that Elon wears on both JRE episodes we've got that info for you…
The SpaceX Occupy Mars shirt (which we have and love) can be purchased from SpaceX here, and the Plaid Mode t-shirt that Elon wore in the second (which we also have) JRE episode can be purchased directly from Tesla here.
Will Joe Rogan Sell His Tesla?
Joe—if you're reading this—we're big fans, aaaand we happen to run the most advanced used Tesla marketplace on the web…
So if you're looking to sell your that preposterous Tesla spaceship of yours, hit us up and we'll take care of you!
And of course—even if you're not Joe Rogan, we're still here to help you as if you were!
Find My Electric is the ultimate Tesla marketplace, and the absolute best way to buy and sell a used Tesla. If you're looking for a used Tesla similar to what Joe Rogan has, check out our listings page to find your very own preposterous spaceship! And if you're thinking of selling your Tesla, sign up and create your listing in minutes—it's that easy!