Anyone who braves the cold in a northern state knows how important winter features can be—heated leather seats, remote start—the list goes on. But what does Tesla offer cold climate users? Well, the Subzero Weather Package, of course!
What's included in the Subzero Weather Package? Which Teslas is it available on? Is there a way to get the Subzero Weather Package on the Model 3 or Model Y? These are important things to know if you're one of the hearty souls braving the winter who also happens to be shopping for a used Tesla!
Continuing with our Tesla Features Explained blog series, we're going to take an in-depth look at the Subzero Weather Package, and all the nerdy nuances associated with it. Ready? Let's go!
What Is the Tesla Subzero Weather Package? How it Works and What's Included
The Tesla Subzero Weather package (sometimes referred to as the Cold Weather Package) is a feature bundle available on Model S and Model X (sorry 3/Y owners), that includes a variety of cold climate creature comforts and goodies to make winter driving easier/less painful.
While the specifics of what's included in the package have fluctuated a bit over time, the full range of options is as follows:
Heated rear seats
Heated steering wheel
Heated washer nozzles
Heater windshield wipers
Heated side mirrors
Camera heaters
In order to get these features on pre-2017 Model S and Model X Teslas, you had to buy this package—these features were not available a la carte or individually. The pricing for the package fluctuated between $750-$1000, depending on the year in which you ordered the it. This package had to be ordered from the factory and was not available as a later upgrade.
To turn on the features enabled in the Subzero Weather Package, tap "Controls," then "Cold Weather," and after that you'll see all of the various options such as the steering wheel heat, seat warmers, and other items that can be switched on/off depending upon your personal preferences.
Because Tesla labeled the menu button "Cold Weather," many people refer to this package as the "Cold Weather Package," but its proper factory option name is the "Subzero Weather Package."
The heaters actually work quite well, and a YouTuber named Joe Rose made very informative video using an infrared heat camera to test many of the Subzero Weather Package features that can be seen here: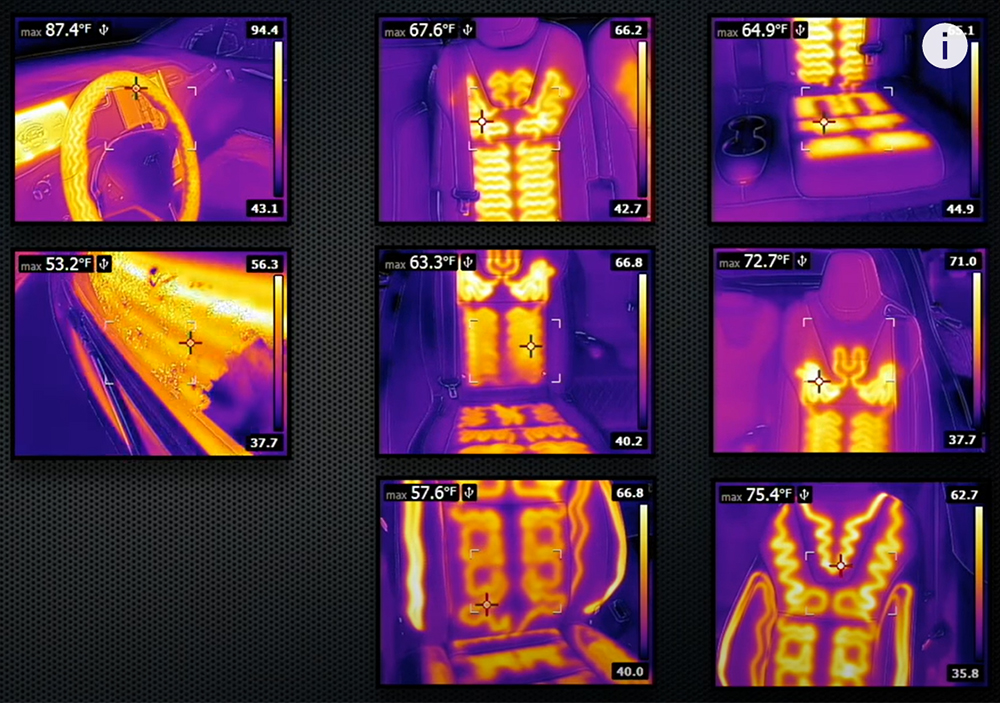 (click here to see the full video)
Is the Tesla Subzero Weather Package Only Available on Model S/X? What About Model 3 or Model Y?
The Subzero Weather Package was only available on Model S and Model X up until about mid-2017 when it became standard. Now, if you buy a new Tesla Model S or X, the package name has been removed as these features are included.
Unfortunately for Model 3 and Model Y owners, there's no option for most of the features that came with the Subzero Weather Package. So, if you're in a cold climate, you're stuck with a non-heated steering wheel and without some other goodies as well.
However, Tesla did begin offering a $300 over-the-air (OTA) upgrade for the Model 3 that allows users to turn on the rear heated seats—who knew they were there all along?! So, if you've got people frequently riding in the back of the vehicle, this might be a worthwhile upgrade.
How Does the Subzero Weather Package Affect Resale Value?
In terms of resale value, the Subzero Weather Package (or lack thereof) can actually be a dealmaker or dealbreaker for someone living in a cold climate.
This might seem a bit silly if you live someplace where you don't have to shovel snow, but for us hearty winter folk—this package is a must.
Generally speaking, options (other than Autopilot and trim-level packages like Performance models etc.) don't have much of a monetary impact on resale. Yes, they're nice to have, but the difference is generally less than 25% of the original cost.
When you're talking about a used Tesla—condition, mileage, range, and other things weigh in more heavily. And again, this doesn't apply to Autopilot and trim-level choices—but singular options like an Alcantara headliner really don't impact the value a lot.
With an initial cost of $750-$1000, you can expect potentially a bump to the price of $100-$200 or so, but the most important thing about the Subzero Weather Package is that it might be a decision point for someone living in a winter state—so that's really where the resale value is impacted.
Are There Any Aftermarket Options That Add Similar Functionality to the Subzero Weather Package?
There are some important things to note about the Subzero Weather Package and aftermarket options, as well as retrofitting the package itself…
First of all, the Subzero Weather Package was a factory-installed option only. This means if you didn't order it from Tesla, you couldn't get it. Now, that's not to say that some clever tinkerer couldn't retrofit it—that's totally possible, but it would likely be a big pain to do so, and would also require a software update. And since mid-2017, it's standard, so if you really want it before then, you should probably spend some time to make sure it's already included in the used Tesla you're looking for.
There are some companies that do offer aftermarket interiors for Teslas, like T Sportline, but they don't mention heated seats or any other heaters. That said, it's probably something you could add as an aftermarket option at a custom shop, but the solution won't likely be as elegant as the factory-installed option and may include a physical button (like—ick, who wants that?!).
Tesla Subzero Weather Package—Is It Worth It?
At Find My Electric, we're headquartered in Minneapolis, Minnesota (AKA, Minne-SNOW-ta), so you could say we know a thing or two about cold weather…
And in our opinion, it is absolutely worth it if you're buying a used Tesla pre-2017 and live in a cold climate. Everyone who has to deal with winter knows that a "remote start" is the most important winter feature to have—which is already covered on all Teslas by default. But having the heated wipers, a heated steering wheel, and heated mirrors just plain makes winter life easier!
If you're shopping for a used Model S or Model X with the Subzero Weather Package, be sure to take a look at our used Tesla listings. We've built some killer features into our search algorithm, making it easier than ever to find a used Tesla with the Subzero Weather Package or any other feature that you're looking for!